Design

We have many hustled days of early darkness here in our northern hemisphere. It, therefore, feels extra important with good light sources that provide pleasant light throughout the day. The Octo Pendulum ceiling lamp is made for Scandinavian homes with its innovative design with warm, soft shapes.
Concept
The pendulum that we experience almost synonymous with Secto must clearly be the beautiful Octo 4240 ceiling lamp/hanging lamp in Black, which is available in white, birch, walnut, and black.
Octo 4240 Pendulum in Black from Secto Design is the innovative use of wood as well as a large piece of craftsmanship. Created from ingrained respect for the northern hemisphere's wood, as well as simple Scandinavian design combined with good woodcraft. The Secto lamp's simple but interesting shapes are in themselves small rooms. The light source is discreetly hidden inside the shade so as not to dazzle and therefore create a warm and pleasant light.
Buy this beautiful lamp at Lampemesteren.no
Unique and innovative lamps that move lighting into a modern design universe with a solid grip on the materials and carpentry of the past.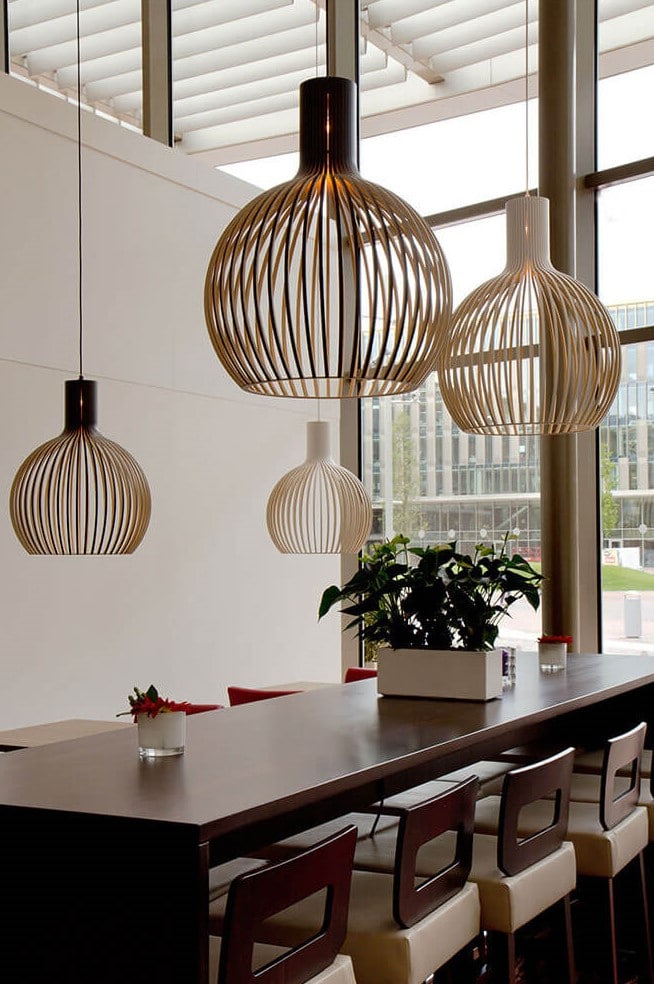 Note! When you buy a Secto lamp, an LED bulb is included. If you want to use a different type, such as a halogen, mirror, or 12-volt bulb, be aware that you risk the lamp overheating. It is therefore a good idea to stick to the LED bulb – in this way you also keep energy consumption down and do the environment a favor.
The screens on the Secto 4240 are made in Finland, of PEFC certified Finnish birch veneer in the best quality. The tree from which the Secto lamps are made is produced in central Finland and therefore transported only short distances. At the same time, during production there is a great focus on the reuse and sorting of materials, for example, the shavings are reused by making wood pellets for heating. Sustainable and thoughtful.
With the Octo Pendulum ceiling light, you move the most beautiful with nature into your own living room. The craft is of the highest quality, done with great respect for nature and its resources.
This large yet airy pendulum has already become a classic. Fits surprisingly well also in small rooms due to its ease. It is therefore extremely suitable to have over the dining table.
This ceiling light is eye-catching and will appear as an exclusive element. It is innovative in its cut and design will fit naturally into any home.
By taking advantage of the soft light that follows the design, the artificial light we surround ourselves with through the dark months will not be quite so prominent. Your eyes will thank you. Both for the warmth of the light and the craft that is allowed to shine in all its glory.
Buy this beautiful lamp at Lampemesteren.no
Denne artikkelen kan inneholde sponsede lenker